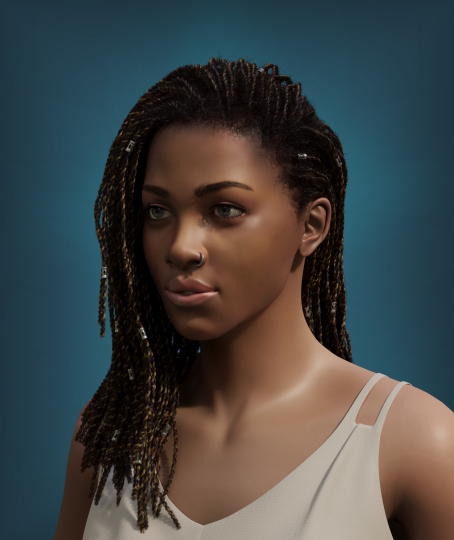 Hi, guys. Today, I'm really excited to share with you my recent work—Stylized Braid of African Woman, including the whole production process inside Blender and the production ideas. So, without further ado, let's get started.
I. Concept/Idea
After watching the movie 'Thor 4', I believe we all are impressed by the Valkyrie, right? She is really strong, independent and of a special personality. In addition, I was also attracted by her woven long hairstyle, which really brings inspiration for my next work.
Before going into production, I prepared a lot, such as looking up information on the Internet, watching videos, etc. Finally, I got the ideal character—A strong, independent, brave black woman and I wanted some rebellion element to enrich her personality.
II. Production
So far so good. I was looking forward to the final stunning effect. However, the next steps were not as smooth as I planned.
a. Pre-testing
Before diving into it, I thought it was simple to become true. Theoretically, Braid in the Children is capable of making what I desired. After testing, the effect looked good.
Here are my steps: Take up Steps to 7 for a smooth result; set children to Simple; Set the type of Kink to Braid and the Frequency to 50, the Amplitude to 0.06.
The result is shown below.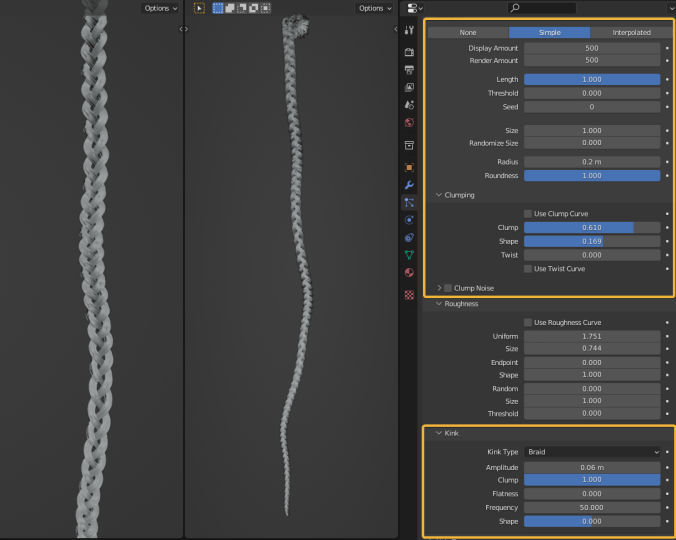 Everything was going as expected. So I started working on the trend/direction of the combing and then applied the well-tested parameter settings to the braid. Well, I found the results to be very bad, as the shape of the braid changed a lot and became difficult to control. To make matters worse, it looked flat from some certain viewpoints.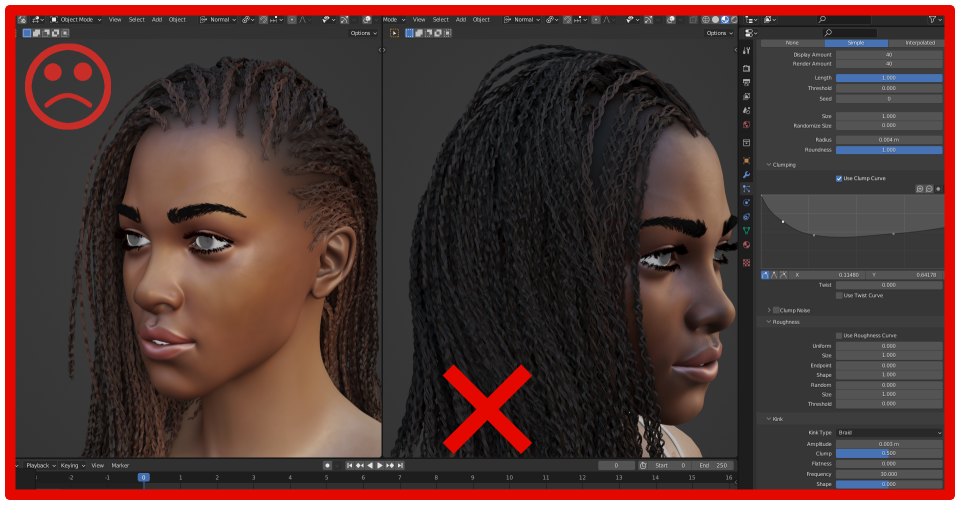 I realized that there was something wrong. After testing it, I found that it was a problem with Blender's "Braid", which works fine in the default state of the guideline, but when the orientation changes, the braid does not bend with the bend of the guideline. Because of this, I could not continue with the following steps. I tried a lot of methods, but all ended in failure. Finally I chose to give up this kind of braid. If you guys know the solution, please share it with me in the comments below, I really appreciate it!
After that, I searched the internet again trying to find another ideal braid. Finally, I did. There were two kinds of weaves: one was the kind I wanted and the other was shaped by curly hair.
I added my personal design of mixed hair colors. I suddenly had some inspiration that I was going to use two strands of hair to weave according to the real shape. After testing, the result looked satisfying.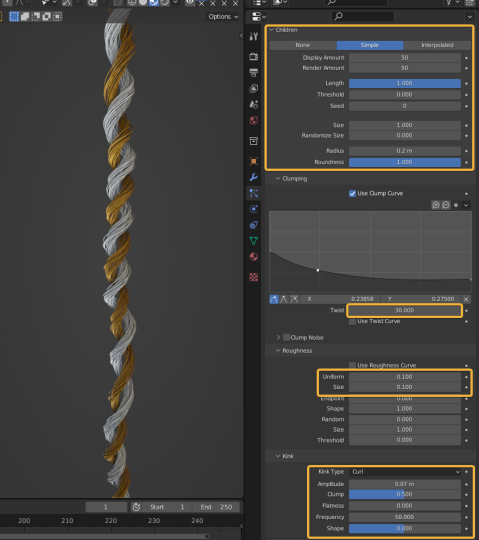 b. Production
In order to visualize the process of creating the look, I have omitted the process of making the hair trend.
For the basic layer, it was enough to create one of the two strands of hair. Set Children to Simple, set its number to 40 and Radius to 0.004. To avoid the same problem, I decided to test it before proceeding. Set the type of Kink to Curl and set the Amplitude to 0.004, the Frequency to 20. It can be adjusted further, but the result looked pretty good and it convinced me that this effect is achievable!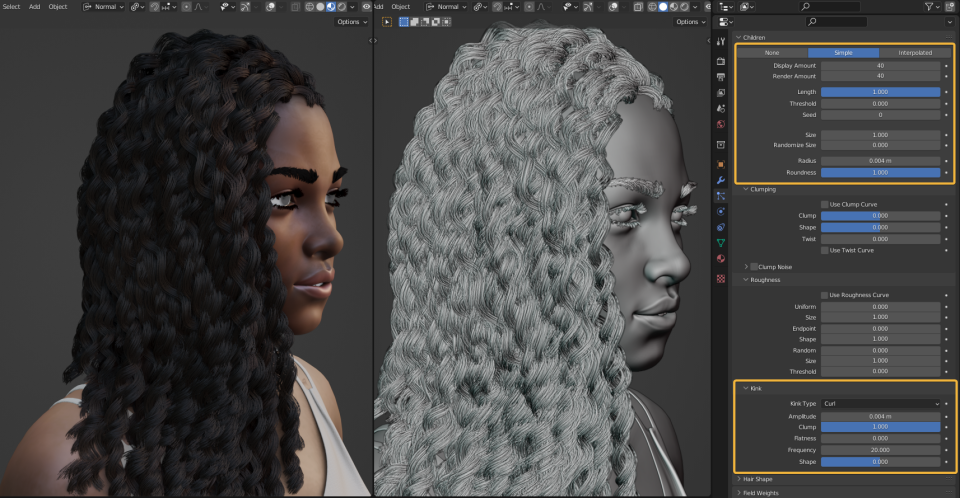 Then I started to adjust Clumping, because I wanted to gain my desired thickness by adjusting Clumping Curve.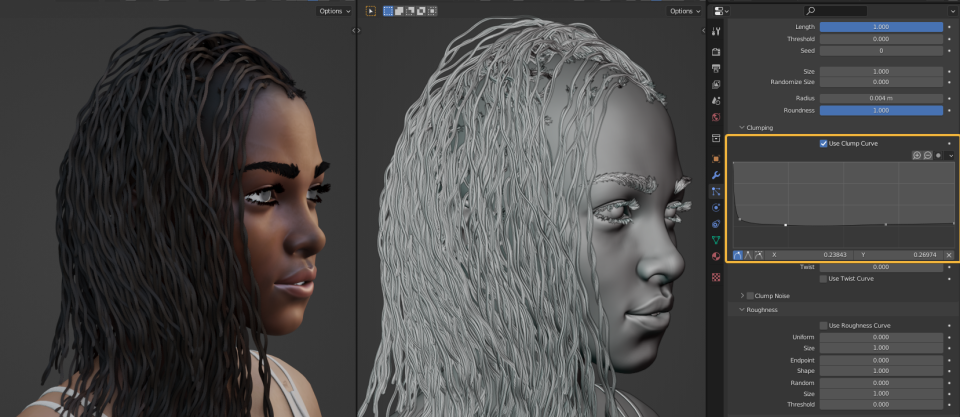 Then, I took up Frequency to 70, it was too low in this case. Everything was going well.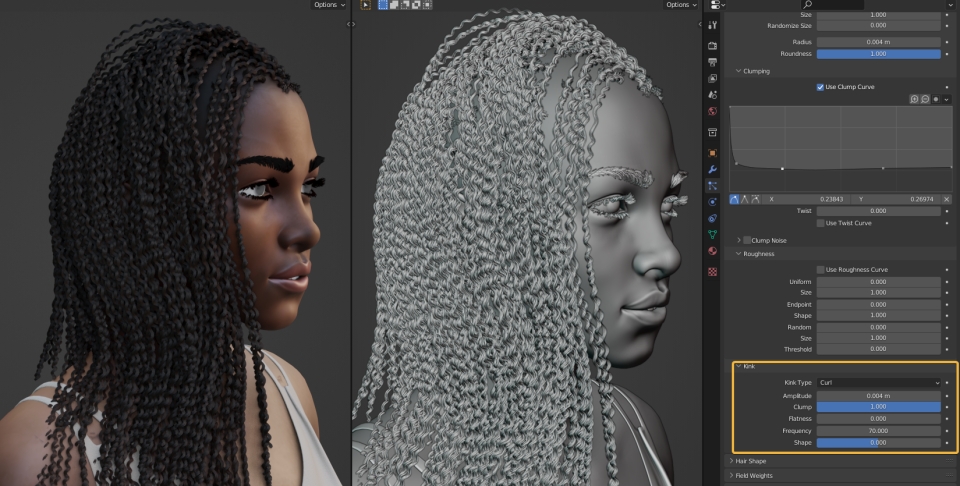 Almost done. But I wanted to add a bit more realism. If we observe this kind of braid, we will find each strand is twisted alone, so I set Twist in Clump to 50.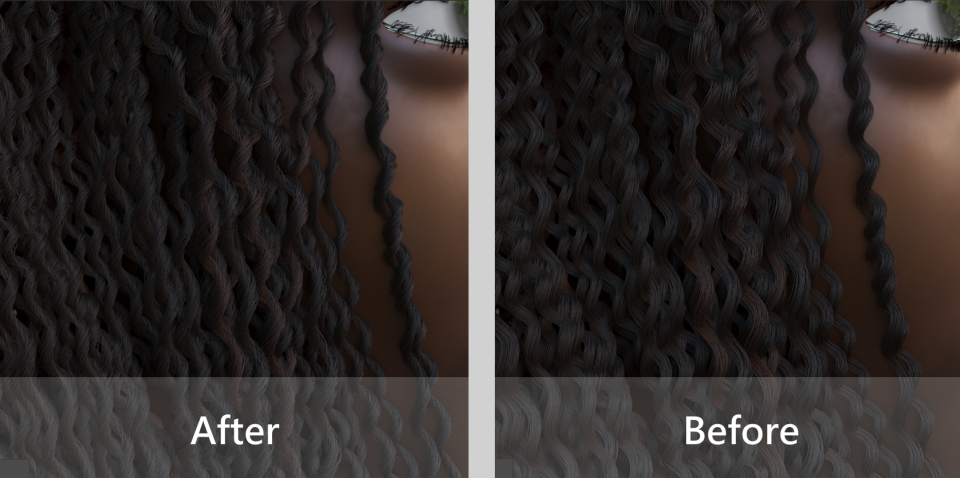 To add some large bend in the effect, I set Roughness under Uniform to 0.02.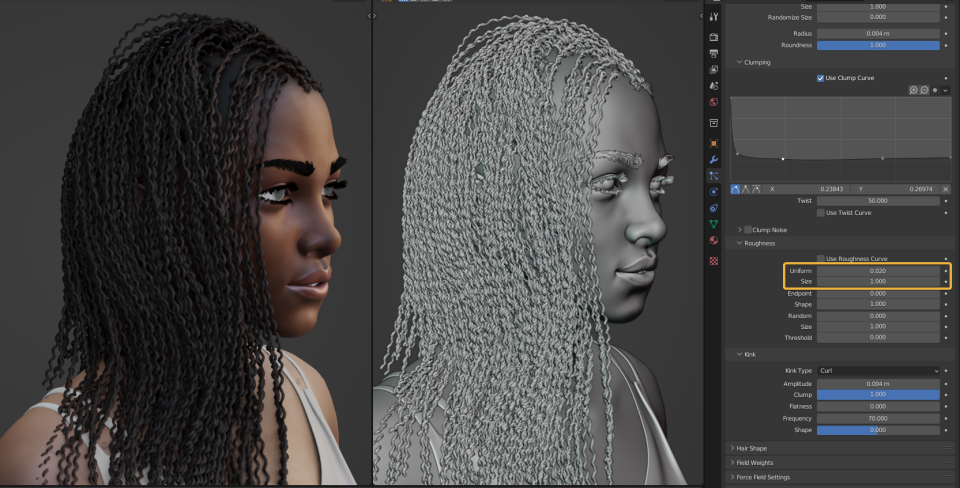 Okay, one layer was done, one left. So I duplicated the first layer, isolated particle settings, and then added '-' before the value of Amplitude.
Kind reminder: For the duplicated particle system, there is no way to isolate particle settings by default. But don't worry. At the end of the article, I will share a method with you.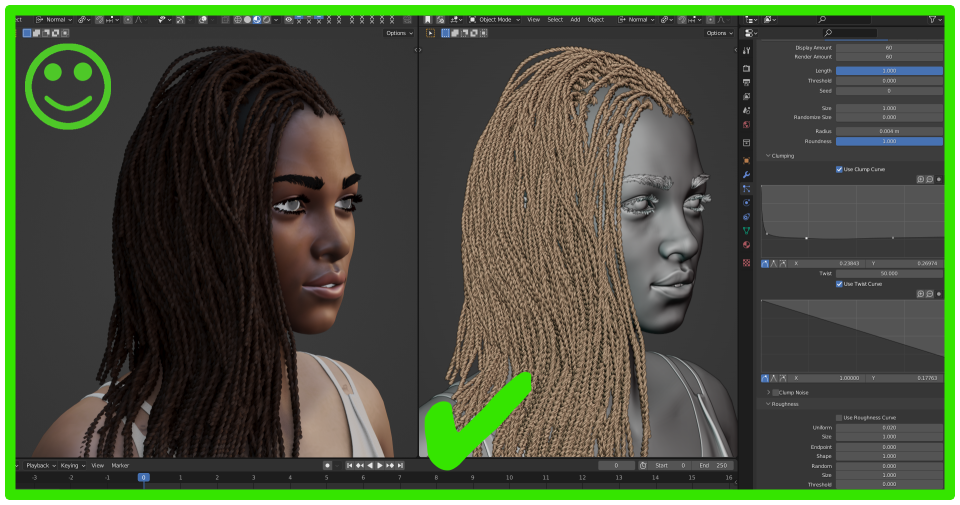 Done with rendering. It looks good, right? Next, I'm going to polish it.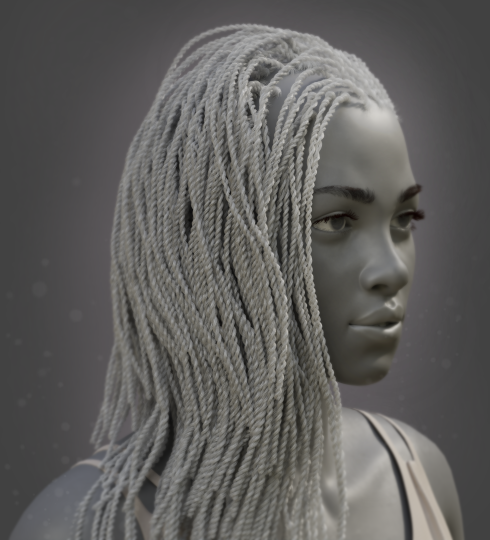 First, there is too much exposed scalp. To solve it, I added one more layer of hair to cover the scalp.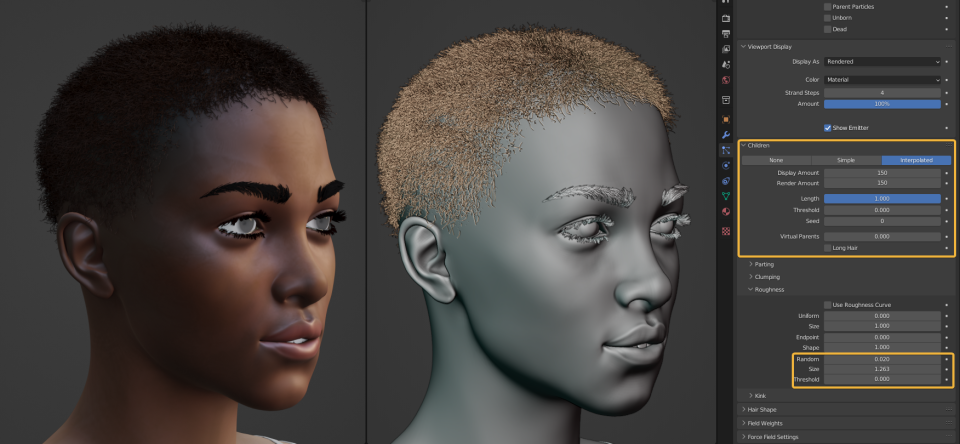 Besides, the transition between the braid and the scalp doesn't look natural. So I added one more layer of hair to integrate the hair root and scalp well. I directly duplicated one strand of hair layer, and then isolated particle settings. On the one hand, in this way the hair length can be decreased a lot, on the other hand, the new layer of hair can easily keep the same direction as the braid. So I adjusted End under Timing to 0.08, then removed Kink, twick Roughness a bit, and adjusted Children and Clumping. Okay, done with this layer. You may adjust the parameters according to the thickness of the braid.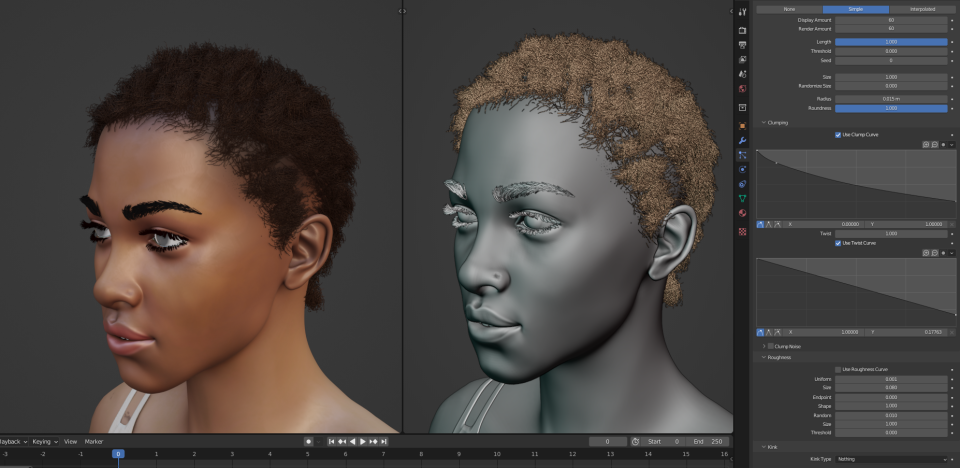 Next, I added some details to the edge for more realism. The parameter settings are shown below as a reference.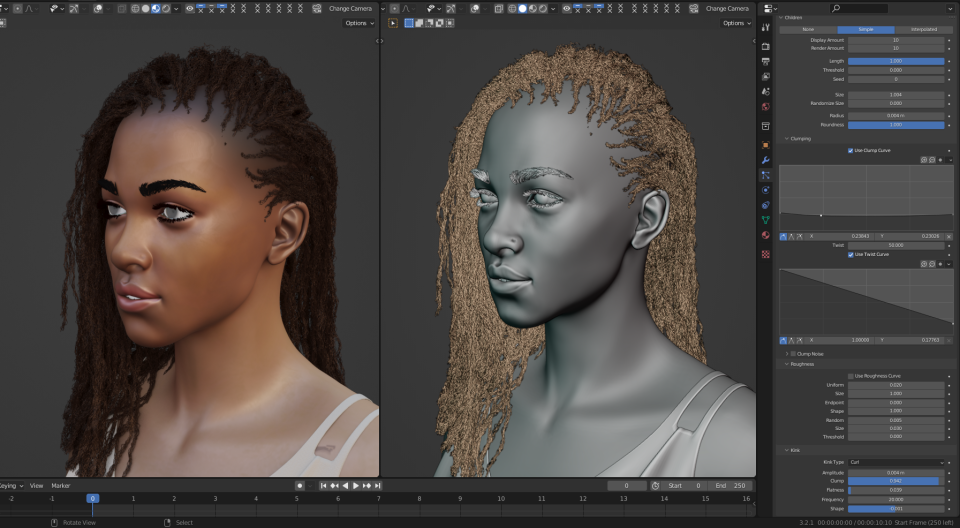 III. Final Result
In addition, you may find some young friends like to put on some hair rings on their braids, which look trendy and with some rebel. So I modeled some to enrich Character personality.

IV. Conclusion
This is the end of this sharing. In fact, this effect still needs a lot of perfection, but I am still quite satisfied with my work and the process, because I gained a lot from this. For example, how to deal with the problems encountered, which will be very helpful to my latter creation. I hope that we never give up easily because of the difficulties encountered, rather, to have a try, think carefully, all the way to figure it out.
Isolate Particle Settings:
Find out the installation dictionary of Blender: "Blender Foundation\Blender 3.2\3.2\scripts\startup\bl_ui\"; then open the file 'properties_particle.py' with a text editor; and then search for the line 'row.enabled = particle_panel_enabled(context, psys)' and add '#' before it; After that, save the file; Restart Blender.
Note: Modifying the script is risky, so be cautious. It's recommended to restore the Script after isolating particle settings.